TIG welding machines are very much in demand due to their precise welds, wide range of applications, and stability. Thus, a buyer is always searching for the best TIG welder, especially the Best TIG Welders Under 1000$.
Finding a cheap TIG welder is a promising task so that the welding machine must have useful features and working ability. Many important features must be considered before selecting a low-budget TIG welder. That's why you must make a smart selection for the best TIG welder under 1000$.
We have covered your hard work by providing you best TIG welding machines you can buy from the market. These TIG welders offer a high-quality, robust, and portable design with the best performance that a TIG welder can have.
Have a comprehensive look at these best TIG welders. These have been listed hereafter detailed study of their features, review of the customer, and price. Our series of best TIG welders under 1000$ is given below.
TOP PICKS
★★★★★
PrimeWeld TIG 225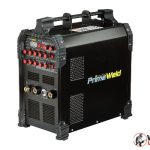 Output: 10-225 A
Weight: 41 lbs
Input Voltage: 110/220 V
★★★★★
Weldpro Digital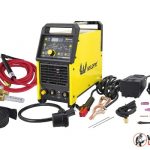 Output: 5-200 A
Weight: 61 lbs
Input Voltage: 110/240 V
★★★★★
Lincoln LE31MP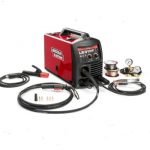 Output: 30-140 A
Weight: 34.5 lbs
Input Voltage: 110/120 V
Related:
Best TIG welders under $1000 in 2023
IMAGE

PRODUCT

DETAILS

PRICE

PrimeWeld TIG 225 ACDC

Manufacturer: PrimeWeld
Weight of item: 41 Pounds
Input Voltage: 110/220 V
Amperage Range: 10-225 A

Weldpro Digital 200A ACDC TIG welder

Manufacturer: Weldpro
Weight of item: 61 lbs
Input Voltage: 110/240 V
STICK Amperage Range: 20-180 A

Lincoln LE31MP

 

Manufacturer: Lincoln Electric
Weight of item: 34.5 (15.6 kg)
Input Voltage: 110/115/120 V

200 AMP 2018 AHP AlphaTIG 200X

Manufacturer: AHP
Weight of item: 50 lbs
Input Voltage: 110/220 V
STICK Amperage Range: 10-200 A

HITBOX TIG welder 200AMP

Manufacturer: HITBOX
Weight of item: 21.4 lbs
Input Voltage: 220 volts ± 15%

Forney Easy Weld 140 MP

Manufacturer: Forney
Weight of item:  24.8 lbs
Input Voltage: 120 V
Amperage Range: 10-140 A
1. PrimeWeld TIG 225 ACDC
BEST OVERALL
★★★★★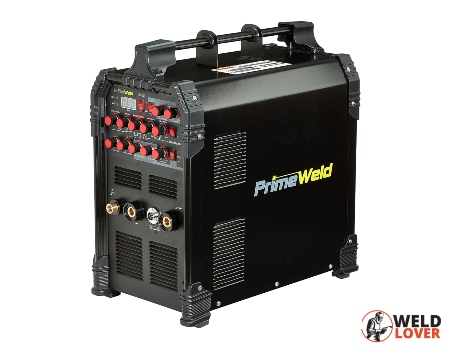 Specifications:
Manufacturer:  PrimeWeld
Weight of item: 41 Pounds
Input Voltage: 110/220 V
Phase: 1
Amperage Range: 10-225 A
Part number: TIG225
Power source: AC/DC Pulse
Weldable Metals: Aluminum, stainless steel, thinner metals
Product dimensions: 27.7 × 11.8 × 22 inches
Check out: 
PrimeWeld TIG has high welding power having an amperage range of 225 amps. It can easily weld the tricky parts. Additionally, this welder has PWD and IGBT technology. Pulse welding with the USA-made torch system is also a great plus point in this TIG welder.
PrimeWeld TIG 225X comes with a foot pedal. This welder has a warranty of 3-years for the users. Typically, this welder is suitable for skilled welders and also useful for beginners. This welder helps mild weld steel up to ¾ inches and Aluminum up to ¼ inches having a high-frequency start.
Features
Dual voltage: Firstly, PrimeWeld can work on both AC and DC voltage like DC pulse, AC pulse, DC MMA, AC MMA, DC TIG, and AC TIG.
Foot pedal: This TIG welding machine comes with a foot pedal that helps control the precision and speed of welding operations. The frequency of the TIG welding is increased by using this.
PWD and IGBT System: TIG 225X has a fast switching capability due to Power Width Modulation Technology and insulated Gate Bipolar Transistor technology. PWD technology enhances process startup frequency in TIG welding.
Heat control system: Another critical feature of this welder is the protection system of heat control. This feature helps to remove the excess heat.
Torch System: this system contains a head torch CK-17 flex with CK dense connector and a Ck-tubing system. All of this equipment enables the welding of arc spots.
Portability: 225 Amp PrimeWeld TIG 225X is a lightweight welder that weighs only 41 pounds. It can be easily carried out at different places to perform work.
PROS:
Operate on both AC and DC voltage
High-frequency start
It comes with a foot pedal
Heat control system
CONS:
A power switch is not present at the front.
Why do I recommend it to you? – Personal review:
With the help of this excellent machine, my welding really improved. The product is excellent for the price, and also the customer support is astoundingly incredible. I've been using this Tig since March, and it welds all types of steel and aluminium with excellent-quality electrodes.
I have owned every miller and have experience welding and fabricating metal. This is on par with or even superior to any of my other units in quality. I'll probably sell everything but one of my other machines, yet this is my go-to for excellent adjustability and sheer welding excellence! Thus, I love this Best TIG Welders Under 1000 for my daily use.
2. Weldpro Digital 200A ACDC TIG welder- Best Dual Voltage
BEST  Dual Voltage
★★★★★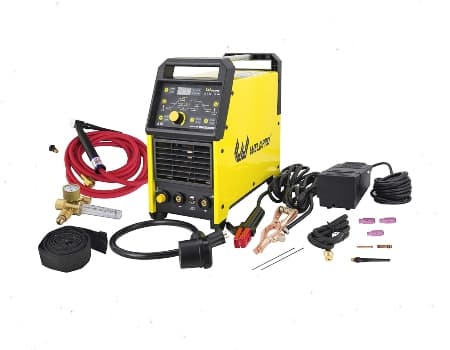 Specifications:
Manufacturer: Weldpro
Input Voltage: 110/240 V
TIG Amperage Range: 5-200 A
STICK Amperage Range: 20-180 A
Weight of item: 61 lbs.
Power supply: AC/DC Pulse
Foot pedal: Present
Dimensions: 33 x 12 x 20 inches
Duty cycle: 40 %
WeldPro 200 GD is an affordable TIG welder that is useful for welding both Aluminum and steel. Also, this welder is capable of stick welding and HF start. An additional feature present in this best TIG welder is CK 17 torch system.
WeldPro is suitable for both professionals and beginners. However, it is a cheap AC/DC TIG welder that can operate on both AC/DC. Dual-voltage support allows the machine to work on both 220V and 110V.
Features
AC DC support: Weldpro welder can work at both AC/DC inputs. DC is useful for carbon steel, copper, steel, and other materials, while AC is useful for aluminum and aluminum alloys.
CK-17 Torch: To support arc welding spots, this inexpensive TIG welder consists of a CK-17 torch with CK-17 tubing.
IGBT and PWD Technology: Weldpro has superior PWD and IGBT technology. Users have reasonable control over welding along with fast switching capabilities.
Duty Cycles: This welder has a 40% duty cycle at AC. At the same time, this welder has a 60% duty cycle at DC. This means that the machine runs your TIG continuously for 3.5 minutes, and then the machine will rest for 6.5 minutes during a 10-minute performance cycle. This welder also consists of an automatic fan on demand.
Amperage range: You must think about the amperage range while buying the welder. I prefer those welders with a more comprehensive amperage range at minimum cost because the welder with a narrow amperage range does not weld the material properly.
Versatile functions: Weldpro TIG welder under 1000 is a universal welding machine capable of TIG/Stick and MMA welding. Also, this welder has a 2T-4T Sequencer Function.
PROS:
Slopping functions
High-frequency start
Excellent foot pedal
Lightweight and portable
TIG & STICK welding
CONS:
Not suitable for heavy operations
Why do I recommend it to you? – Personal review:
First of all, I was quite anxious about purchasing this machine because I had never heard of Weldpro. As I've never attempted welding anything above 1/8th thick, I can't speak about how well the machine performs on 110V. However, I've used all three techniques and have successfully welded steel and aluminium.
 Like many others, I have expertise with stick & mig, yet I am a tig newbie. I've used a few tig machines, and this model performs pretty well. In fact, in my experience, it is superior to Eastwood. It didn't take me long to become accustomed to this equipment because I have been welding for 20 years, and I'm a mechanical whiz.
3. Lincoln LE31MP
BEST Multi-process Welder
★★★★★
Specifications:
Manufacturer: Lincoln Electric
Dimensions: 13.6 in x 8.9 in x 18.1 in
Weight: 34.5 (15.6 kg)
Input Voltage: 110/115/120 V
Output range: 30-140 A
Input current: 20 A
Duty cycle: 60 %
Input phase: single
Warranty: 3 years
Lincoln LE31MP is a multipurpose machine that is also 1000$. Users can accomplish TIG welding along with the MIG, STICK, and cored flux welding. Both beginner and pro welders, especially DIY workers, can have a great time with this inexpensive TIG welder.
Lincoln LE31MP reviews have revealed that the welding machine is potent and versatile. Moreover, the welding machine has high duty cycles with low weight and compact design, making it portable. To have more details, let's have a comprehensive Lincoln LE31MP review.
Features
Duty cycles: Duty cycles of the Lincoln LE31MP are 60% awesome for a TIG welder of this price.
Excellent control: control panel of the machine does not contain many knobs and buttons. It has few options for precise and accurate control of the amperage and power output.
Portability: Lincoln LE31MP weight is only 46 pounds. Additionally, its size is also small and compact. That's why it can be transported or taken anywhere where it is needed.
Efficient Foot Pedal: A foot pedal on the machine will allow you to enjoy welding at the Lincoln LE31MP at any time of day. Users can also adjust the flow of gas with the help of this foot pedal. Hence, it is the best TIG welder for the money.
120V power source: Lincoln LE31MP can operate on 120V, so the user does not need to worry about the welding machine's power source.
PROS:
Effective stick welding
Simple and easy to use interface
Portable
A gun connection is from brass to brass
CONS:
DC process only
Hard maneuver for TIG torch
Why do I recommend it to you? – Personal review:
I find this machine to be amazing!  The stick welding process could have produced at least ninety amps if they had found a way. They must add a tig torch because 3/32 is pricey. Nevertheless, it's a nice machine. This tiny unit works nicely for the minor items I weld as little more than a hobby or for my personal usage. The quality of this item was excellent.
 I simply connect to something like a 120 outlet & burn pipe like that of a pro whenever I need to weld inside. I adore this. Undoubtedly a source of income for me. 3/32 rods. Additionally, certain aluminium furniture was simply migged after purchasing the aluminium spool gun. 
4. 200 AMP 2018 AHP AlphaTIG 200X
BEST For Home
★★★★★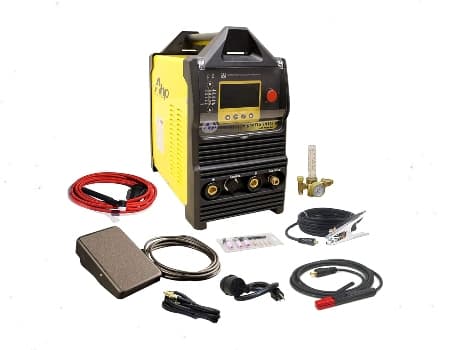 Specifications:
Manufacturer: AHP
Weigh of Item: 50 Pounds
Model No of Item: Alpha-TIG200X-2018
Input Voltage: 110/220 V
Amperage Range: 10-200 A
Duty cycle: 60% @ 200A
Dimensions of Product: 22 × 20 × 9 inches
Process Type: Stick, TIG
Weld Thickness: 3/8 In.
AHP Alpha TIG welder has excellent welding efficiency and power. It is the best TIG welder under 1000. This machine has an accurate welding design with process control with (Pulse Width Modulation technology) PWM.
Other essential features present in this welder are the foot pedal and high-frequency start. Protective elements are present in this machine that indicates overheating. However, this TIG welder is suitable for both beginners and professionals.
Features
Power: Firstly, this yellow welder has an input power of 110 and 120 volt that can output 200 amps. By using AC/DC voltage, welding of Aluminum and steel is done quickly.
Welding quality: Alpha TIG is used for thin gauge metals for accurate and precise welding. However, this welder behaves as a steel TIG welder and aluminum TIG welder. So, this TIG welder equipment shows diversity in welding various metals with quality welding.
Heat Control System:  A TIG welding machine for the beginning of welding must have protection systems.
Other features: Important components of this welder are foot control and high-frequency TIG start. Welding operations have precisely controlled with these features.
IGBT technology: AHP Alpha good TIG welder comes with IGBT technology (insulated gate bipolar transistor). This feature helps in steady output and fast switching of this welder.
2T/4T Sequencer function: Lastly, this feature enables the machine to be worked on remote switches or programmable functions like the start and end of the cycle or flow control.
PROS:
Easily manipulated smooth arc
Work on both AC and DC voltage
Versatile and flexible
Without heating, this welder can be used for many hours
CONS:
The regulator is not calibrated correctly
Why do I recommend it to you? – Personal review:
Excellent tool for beginning welders, so those learning to tig weld. Not flawless, but the flaws teach us how to correct mistakes. However, a highly reliable and simple-to-use device. Excellent value, given what you're receiving. It has been over three []years since I bought mine. The device is fantastic, and it has been trustworthy for me.
Even though the HF has the same duty cycle as even the Lincoln machine it replicates, it only operates at about 20–25% of its potential. There is proof that the AHP is 60%. It would be my first recommendation to get a TIG machine if someone claimed to require one. Hopefully, it's helpful! Overall, I wholeheartedly suggest this machine to novices, hobbyists, & starters. 
5. HITBOX TIG welder 200AMP
BEST Lightweight
★★★★★
Specifications:
Dimensions: 15.8 x 7 x 9.8 inches
Weight: 21.4 pounds
Material: Iron aluminum copper ABS
Model: MIG200A
Voltage: 220 volts ± 15%
Duty cycle: 30% @ 200A
Inverter Technology: IGBT
Power factor: 0.73
Processes: ARC/ Lift TIG/ Gas & Gasless MIG
HITBOX TIG welder is one of the best inexpensive TIG welders that have a versatile use. It can be used for MIG, TIG, and ARC welding. Welding machine provides better services at a reasonable price. So, it the best budget TIG welder for those persons who seek an excellent versatile product for multipurpose use.
When it comes to the power output and performance of the HITBOX welding machine, you will have a great time working. Most of these tig welder features are like ALPHA TIG, which assures its performance and working ability.
Features
Multipurpose use: HITBOX is a low-cost TIG welding that can be used for MIG, ARC, and lift TIG welding. Moreover, TIG welding can be done in gas and gasless modes. So, it is a fantastic choice as a cheap TIG welder that can have versatile applications.
Beginner Friendly: Controls and display of the machine are easy to operate. That's why beginners can use this best price TIG welder without any assistance. Apart from that, this machine can run on a generator which is an additional advantage.
Design of Machine: structure of the HITBOX welding machine is compact and smooth. Therefore, it is reliable and can have long-term use. Additionally, this low-cost TIG welder is also portable.
Applications: This TIG welder can be used for various applications such as; homemade industry, vehicle repair, machine manufacturing, etc. machine can operate on AC mode, so it is the best TIG welder for Aluminum.
PROS:
IGBT inverter technology gives a smooth power output
Small weight and size make it portable
Versatile use as STICK/MIG and TIG
Customer-friendly service of HITBOX
CONS:
A machine can operate only in AC input
Cannot perform heavy-duty tasks
Why do I recommend it to you? – Personal review:
The 256si is an excellent plasma cutter & tig welder. I needed to get in touch with sales plus tech support, both of whom were incredibly helpful & quick to respond. Of course, the torch needs a water cooler. I created my own with a secondhand Shurflo pump, a five-gallon bucket, and a 12-volt power source.
Make sure that the new supply you purchase isn't rated for more than 4 amps inbound, or you risk damaging the welder. The female end should be cut, then wired to a power source. Remember to change the voltage to 230 volts! I added quick disconnects for a faster transition from tig to plasma. The welder is wonderful; if not, I will update you.
6. Forney Easy Weld 140 MP
BEST Easy to Use
★★★★★
Specifications:
Manufacturer: Forney
Dimensions: 14.2 x 19.3 x 11.6 inches
Weight: 24.8 lbs.
Amperage Range: 10-140 A
Input Voltage: 120 V
Thickness Range: ¼ In.
Duty cycle: 30%
Output Current: 12-23 V
Processes: MIG/ DC TIG/ Stick
Forney Easy Weld 140 MP is another low-budget TIG welder that is present in the market. The output power of this machine is excellent. That's why it is the best TIG welder. Like HITBOX TIG welder, Forney  Easy Weld 140 MP is also a multipurpose TIG welder that can be used for MIG, STICK, and DC TIG welding.
Forney Easy Weld 140 MP offers the most promising features that can be present in any cheap TIG welder. A welding machine is compatible with delivering output in only DC format. Moreover, the controls of the device are user-friendly and easy to operate. Other unique features of the machine are given below.
Features
Multi-processing machine: when you unbox Forney Easy Weld 140 MP, it is just a MIG welding machine. However, with the given accessories, it can perform TIG and STICK welding also. So, it is the best affordable TIG welder with multipurpose use.
Rugged construction: welding machine is made with robust metal to bear any environmental stress and conditions.
Controls: with the help of easy controls of the welding machine, one can easily control the device's weld and gas flow speed. This welder gives precise welding control and accuracy to the user. Due to these, it is the best TIG welder under 1000$.
Package includes: The machine's Package includes MIG and STICK set up along with the gas hose and flow meter.
PROS:
Can operate of domestic one phase supply
Multipurpose use
Cheap
Portable
No gas required
CONS:
Extra accessories like pedal and torch are required to buy separately
Users can have some struggles to weld on thicker materials.
Not suitable for Aluminum
Why do I recommend it to you? – Personal review:
The fast disconnect is available on the Forney 190 MP 3-in-1 welder, making it simple to change the torch & clean the liner. I set up the new one as soon as I got it and contacted Zach. Along with showing me how to use the equipment correctly, he also spent approximately a half-hour going over best practices for welding with me.
I like the front-mounted, easier-to-reach American-type power switch, although you become accustomed to the Euro style close to the power wire. The product is fantastic, and the company behind it is fantastic. I am a very inexperienced welder. The newest welder is perfect, simple, and enjoyable to operate. Thus, my team loves this Best TIG Welders Under 1000 for fast welding purposes. 
Conclusion
Whether you are a skilled welder or beginner, a welding machine is one thing that decides your work's fate. So, a good welder does not compromise the quality and performance of the device.
Finding a cheap TIG welder is not an easy job. You must have proper knowledge of the things and features that are present in the machine. One other easy way is to compare that item with the other similar product that is available.
However, the above-listed products are the best TIG welders under 1000$. You can choose from these products depending upon your choice and need. Hopefully, our article has helped you to find your best TIG welders for under 1000$.
Related: Top TIG welding Machines